FOOTBALL – LOSC Mercato : A Goalkeeper is eyeing Maignan's place
Performing well with LOSC in recent seasons, Mike Maignan has caught the eye of several clubs. His name is circulating in London to replace Hugo Lloris at Tottenham. Informed of a possible transfer of the goalkeeper of Lille this summer, one of his ex-teammates is clearly targeting his place.
LOSC : Mike Maignan highly courted
Mike Maignan is still shining this season with LOSC and is well on his way to win the 2021 title with the northern club. With 7 days to go, the Dogues are leaders with 3 points ahead of PSG, their runner-up. Speaking of the capital club, it was beaten by Lille (0-1) on Saturday, during the 31st day of Ligue 1. And the last bastion of Lille OSC had been decisive against Kylian Mbappe, Moise Kean, Neymar and other Parisian offensive players. This season, Mike Maignan (25) has conceded only 19 goals in 31 league games and has managed 17 clean sheets. Thanks to his performances with Lille, he was selected for the French national team at the beginning of the 2020-2021 season by Didier Deschamps, precisely since October 7, 2020.
The goalkeeper trained at Paris Saint-Germain is now a Tricolore international and is attracting interest from foreign clubs. His name is associated with Tottenham to succeed Hugo Lloris (34 years). In the Bundesliga, Borussia Dortmund is interested in the profile of the No. 16 of LOSC. And that's not all! At AC Milan, Paolo Maldini would consider the French goalkeeper to compensate for a probable departure of Gianluigi Donnarumma, whose contract ends on June 30, 2021. Given these numerous interests in Mike Maignan, he could be the subject of a transfer from LOSC during the next mercato.
Herve Koffi wants to replace the Tricolore in Lille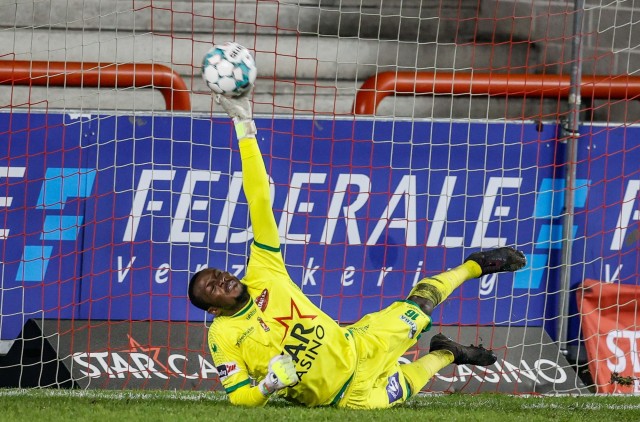 Since then, Herve Koffi has been positioned to succeed him in Lille. Indeed, the Goalkeeper from Burkina Faso belongs to the club chaired by Olivier Letang. On loan to Royal Excel Mouscron in the Jupiler Pro League (Belgium) for the 2020-2021 season, he is linked to the Dogues until June 2024. And his priority objective is to play in the elite in France. "My wish is to be able to play in Ligue 1 to continue my progress," he told La Dernière Heure. Herve Koffi signed for LOSC in July 2017 from ASEC Abidjan (Ivory Coast). He had been loaned to Belenenses SAD in Portugal during the 2019-2020 season. He is therefore on his second successive loan to Mouscron. In 4 years under the Lille shirt, the 24-year-old keeper has played only 6 games with the club of the North department.