FOOTBALL – PSG LDC : Before Man City, two big news fall !
Two days before the first leg of the Champions League semi-final between PSG and Manchester City, the press took stock of Mauricio Pochettino's group. And the least we can say is that the coach of Paris Saint-Germain can already breathe a big sigh of relief.
The group of PSG almost complete against Man City ?
Forty-eight hours before the clash against Manchester City, Mauricio Pochettino can breathe easy. Regularly faced with multiple injuries during major European meetings, the coach of Paris Saint-Germain will be able to count on a group almost complete for the trip to Manchester. Kylian Mbappe, who was injured after scoring twice against FC Metz, will be present against Pep Guardiola's players on Wednesday night at the Etihad Stadium for the first leg of the Champions League semi-final.
"There is no real concern for the striker, who will be able to hold his place in the Champions League," assures the newspaper Le Parisien. A trend also confirmed by the sports daily L'Equipe. "The Parisian striker underwent an examination yesterday morning which reassured everyone. The muscle was not crushed by Habib Maiga's knee blow and Mbappe will be able to hold his place on Wednesday," explains journalist Damien Degorre. But that's not all as another stalwart of the Parisian squad could also be ready for tomorrow's trip to England.
Marquinhos finally fit to face Man City?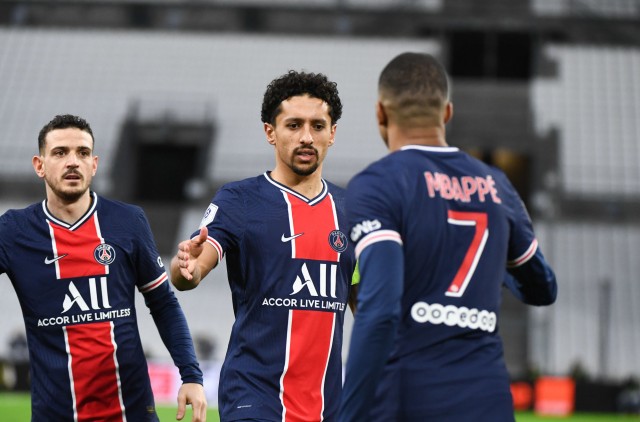 According to L'Equipe, Mauricio Pochettino could get his captain back for the match against the new Premier League champions. Marquinhos, who was injured during the 3-2 win at the Allianz Arena on April 7, could be ready to play alongside Presnel Kimpembe in the PSG center backline. The sports media explains that Pochettino was very confident on Sunday about the chances of seeing the 26-year-old Brazilian international treading the Manchester City pitch from the start of the game.
Thus, apart from Juan Bernat, injured since the beginning of the season, it is a complete group of PSG who will travel to Manchester this Tuesday.