FOOTBALL – PSG Mercato: Achraf Hakimi close, the asset of size of Leonardo
In search of a top right-back, Leonardo is getting closer to signing Achraf Hakimi. The PSG sporting director is on the verge of securing the signature of the Inter Milan defender thanks in part to a totally unexpected support.
PSG has increased its offer for Achraf Hakimi
"The only one who will leave Inter at the moment is (Achraf) Hakimi," announced recently the agent of the Moroccan international Alejandro Camano, during an interview with Radio Colonia. Despite a contract running until 2025, the former Real Madrid player will leave the ranks of the new Italian champion this summer. Announced close to a transfer to Chelsea FC, which is leading a tough competition to Paris Saint-Germain, the 25-year-old fullback is finally heading to the club of the French capital.
According to La Gazzetta dello Sport, Leonardo has decided to increase his offer from 60 to 70 million euros in this case. A proposal that should suit the leaders of the Milanese club according to the transalpine daily. According to the same source, Paris SG is intensifying its pressure on Inter Milan, and the negotiations next week should be "intense" between the two parties. If Chelsea also continues to push, the French vice-champion can count on a considerable asset in this case.
Mercato PSG : Achraf Hakimi's wife has chosen Paris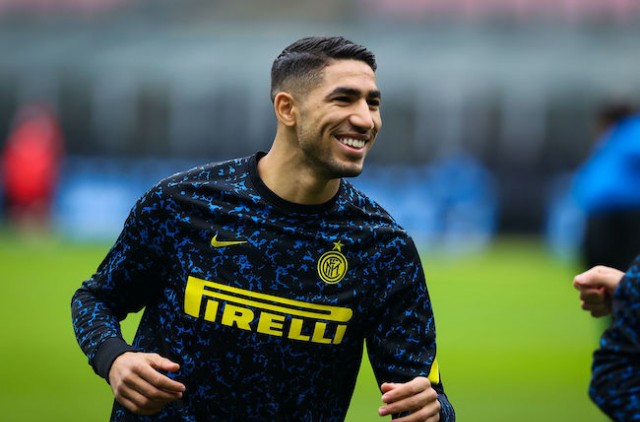 Indeed, La Gazzetta dello Sport assures that the player has made his choice and is pushing for a transfer to Paris Saint-Germain. The Italian newspaper explains that the choice of Achraf Hakimi has been strongly influenced by his girlfriend. To boost my career as an actress, Hiba Abouk told her husband that she would like to move to Paris in the long term. And obviously, the native of Madrid has given in to the request of his companion because he is now pushing his leaders to find an agreement with PSG to allow him to join the team of Mauricio Pochettino this summer.