FOOTBALL – PSG Mercato: Kylian Mbappe leaves, Lewandowski on his way to Paris?
Despite Nasser Al-Khelaïfi's latest exit, PSG is still considering the arrival of a world-class striker in case Kylian Mbappe were to leave this summer. Robert Lewandowski could then leave Bayern Munich to land in the French capital.
Mercato PSG : Leonardo ready to try the Lewandowski move?
"Of course he stays. Who would sell a player who scores 60 goals a year? His agents did not ask to sell Lewandowski. "The assurance of Karl-Heinz Rummenigge, the former president of Bayern Munich, could finally be thwarted by the personal ambitions of the Polish international. After spending seven seasons with the Bavarian club and scoring 294 goals in 360 games in all competitions, Robert Lewandowski thinks he has done the trick in the Bundesliga and is seriously considering a change of scenery this summer, according to the Spanish newspaper AS.
According to the Spanish media, the former Borussia Dortmund forward is "open to a change of team" and "thinks it's the ideal time to discover another culture and another league". He had an exceptional season, beating Gerd Müller's 50-year old record by scoring 41 goals in 29 games, making him Bayern Munich's all-time leading scorer in a Bundesliga season. And quite logically, such a player interests almost all the other European giants. Notably Paris Saint-Germain, which is struggling to convince Kylian Mbappe to extend his contract that expires in a year.
Big battle ahead for Robert Lewandowski?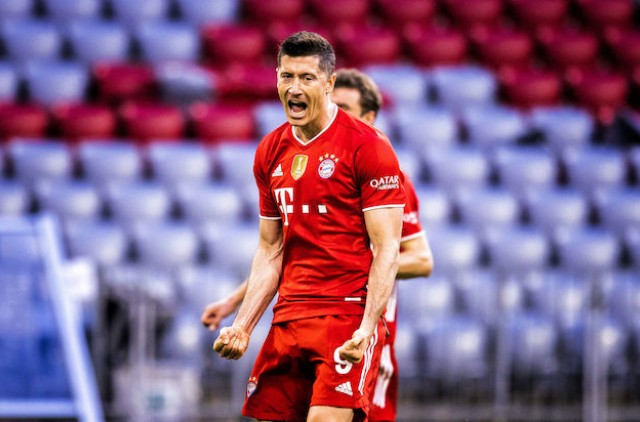 Last month, ESPN had already announced that Paris Saint-Germain was monitoring Lewandowski's situation. The American sports channel explained that despite his contract running until June 2023, the Bayern Munich number 9 could be the subject of a big offer from PSG if Mbappe were to join Real Madrid.
This Friday, AS confirms this trend, but adds that Nasser Al-Khelaïfi and Leonardo will have to be very generous since Real Madrid has the player's favor if he leaves Germany. Moreover, Florentino Perez would be ready to take action for Lewandowski if he fails on the Mbappe and Erling Haaland tracks.
Case to follow…