FOOTBALL – Real Madrid Mercato: Ancelotti holds the successor of Varane?
The central defender of Villareal in La Liga, Pau Torres, last winner of the Europa League, is according to the Iberian press the number one priority of Real Madrid's leaders. In contention with the Roja for the EURO, the 24 year old Spaniard is expected to fill in for the early departures of the two pillars of the Merengues defense, Sergio Ramos and Raphael Varane. Under contract until 2024, Florentino Perez will have to pay a minimum of 50 million euros to sign the player from the Yellow Submarine.
Mercato Varane: Real wants Pau Torres from Villareal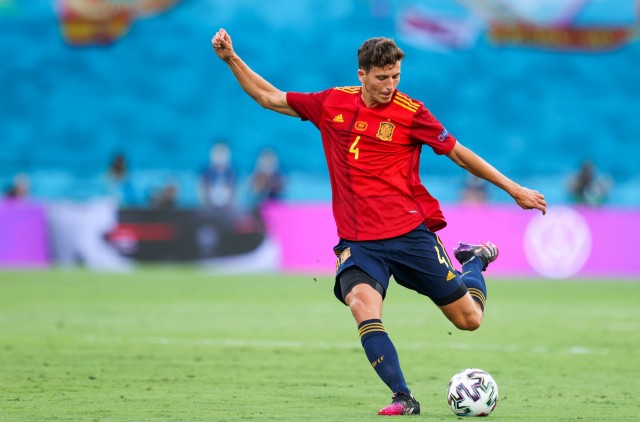 Florentino Perez's plans for this summer's mercato seem to be a pesky unknown for Real fans. While Los Blancos have recorded the painful departure of Sergio Ramos to PSG and Raphael Varane to Manchester United, the mythical Spanish president had told his management that an arrival to relieve the squad was not on the agenda. If the Mbappe file has monopolized the minds of merengues for several months, the time is for defensive reconstruction. According to Fichajes.com, Real Madrid is making eyes at the central defender Pau Torres, who has been playing since 2016 in Villareal.
The Spaniard has just won a Europa League trophy with Unaï Emery, has a release clause of 65 million euros and could soon receive an offer of 50 million euros from Real. Carlo Ancelotti is doubtful that the current defense can meet the various deadlines of the season, and would like to see Torres arrive to support Militao and Alaba (expected to occupy the central position). As a reminder, the Italian coach had already asked his management to sign Everton striker Richarlison a few weeks ago.
At just 24 years old, Pau Torres is coming off a great season at Villareal. Author of 44 games, including 9 in the Europa League, the central defender of 1m91 scored 3 goals and provided two assists. Selected by Luis Henrique for the EURO, Torres took part in the very nice journey of La Roja by playing 6 games.