FOOTBALL – Stade Rennais: Eduardo Camavinga evokes a possible departure
Stade Rennais are on a five-game losing streak, during which Julien Stéphan gave way as coach to Bruno Genesio. The former coach of Olympique Lyonnais took the reins of the team at the Vélodrome against OM, but it nevertheless lost again (0-1). Now tenths, the Reds and Blacks are living a complicated season, which Eduardo Camavinga does not escape. The Breton nugget (18 years), after a thunderous start to the season marked in particular by a selection and a goal for the France team, has stalled, like his teammates, since mid-autumn and is struggling to regain the flamboyant level to which he had already accustomed us.
"Everything went very quickly" for Eduardo Camavinga
In an interview with France 3, Eduardo Camavinga gave a quick overview of his past and his future, ten matches from the end of Ligue 1. "Everything went very quickly. We hope to achieve more great things with Stade Rennais . It is this club that allowed me to start young, I am indebted, it is my club of heart, my city. It is my family too, they educated me. I have been there for a very long time, they taught me the basics of life. Enough to prolong? As I always say, there are my parents, it will be necessary to see the project. There are a lot of things to take into account. The future biggest sales of the club "That's the outside world. What interests me is football," said the young midfielder.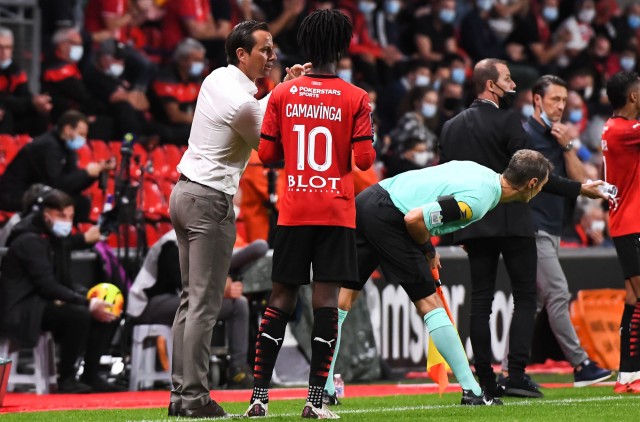 The French international also spoke of his best and worst memories with Stade Rennais. "My best memory? The Coupe de France, it was pretty crazy, even though I didn't play. Being in the squad, it was something incredible. The worst? Like that, what comes to me in head, it was in U13. I missed a penalty and we had lost. I had cried like crazy (laughs). Those who made me dream in Rennes, there was Yann M'Vila, Ousmane Dembélé also since I was at the training center. It's crazy to see him now in the France team. You can't stop there, it's nice but you have to use that to hope to return. "
The image he would like to keep at Stade Rennais
Finally if he leaves Brittany and Rennes, Eduardo Camavinga wishes to leave a special mark. "If I am brought to leave, I hope it will be said that I was a player who had the love of the club, who gave everything on the pitch and who wet the shirt. The best smile of the History of Stade Rennais? Possible that it stays, but there will be maybe another who will have more bananas than me (laughs)! It's my way of being, I am like that, I have a smile . You have to take advantage of every moment because life is short. Me, I do not take the lead! " There are about ten matches left at the Rouge et Noir to regain some serenity and end the season in style after a very special year.