FOOTBALL – PSG-Real Madrid: Karim Benzema issues a huge warning to Paris SG
Karim Benzema is looking forward to playing PSG. The Real Madrid striker talked about the double shock of the Champions League round of 16.
Karim Benzema comes to Paris "to win
Named best French player of the year 2021, Karim Benzema took advantage of his interview with France Football to announce the color concerning the double confrontation to come between Real Madrid and Paris Saint-Germain, on the occasion of the last 16 of the Champions League. For the first leg of this European clash scheduled for February 15 at the Parc Princes, the striker of the Spanish club assures that even if the Parisian team was not the desired draw, Carlo Ancelotti and his men in Paris to win.
"If you want to go all the way, you have to beat all the teams. Afterwards, we would have liked a different draw, that's for sure. PSG is one of the favorites, but there is no fear, it is two soccer matches. We want to qualify, we want to go all the way," said the 34-year-old French international. On paper, it is obvious that the PSG team with Lionel Messi, Neymar Jr and Kylian Mbappe is scary, but the Merengues will come to the French capital to beat the Red and Blue.
"With Real, I came back many times (to France), it's not new. And my fans in France watch me every weekend. I don't need to come to France and show anything. But in any case, when we go to France to play this game against Paris, it will be to win, "added the former teammate of Keylor Navas, Sergio Ramos, Achraf Hakimi and Angel Di Maria. Benzema also took the opportunity to reiterate all the good he thinks of his compatriot Kylian Mbappe.
PSG Mercato: Karim Benzema praises Mbappe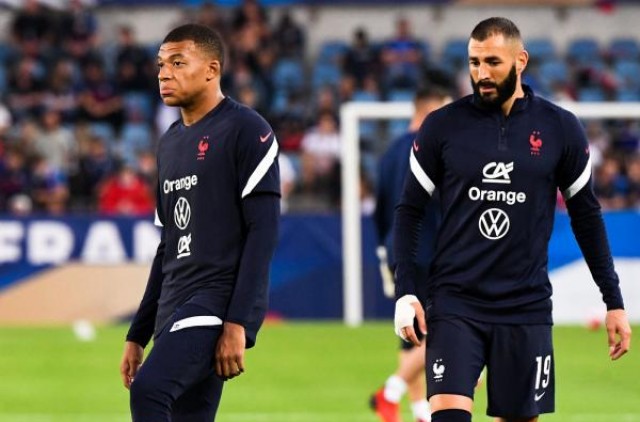 While the 23-year-old striker, whose contract expires on June 30 and who has not yet extended with Paris Saint-Germain, is announced at Real Madrid next summer, Karim Benzema continues his operation seduction to convince him more to meet him at Santiago Bernabeu. The former center-forward of the OL has once again praised the young Bondynois. Benzema explained in particular that the performances of Kylian Mbappe push him to raise his level of play in club as in selection.
"He's one of the great players and it's going to become a very great one. That's what I wish him every time. We have the chance to play together in the national team, so I know the potential, what he is capable of doing. On the field, we get along very well, it works very well. It's good to have a player like that around. I think I have to motivate him, he motivates me," said the Merengues striker.