FOOTBALL – ASSE : Puel's final adjustments against Eintracht in Frankfurt
ASSE has one last appointment this Saturday to complete its summer preparation. Claude Puel and his team went to Germany to face Eintracht Frankfurt. The coach of the Stephanois has called up a group of 23 players with several youngsters, on this occasion.
ASSE : New young players among the 23 Greens
ASSE is approaching the final stretch of its preparation this weekend, before the kick-off of the League scheduled for Friday, August 6. Claude Peul and his team went to Frankfurt on Friday evening, to face the Eagles. This, as part of the last friendly match of pre-season. The match is scheduled at the Deutsche Bank Park stadium, this Saturday, July 31 from 15:30. The AS Saint-Etienne coach has brought an extended group of 23 players, including several new young players from the club's academy: Mickaël Nadé (22-year-old central defender), Bryan Djile Nokoue (19-year-old right back), Koimizo Maïga (20-year-old midfielder), Ahmed Sidibe (19-year-old midfielder) and Yanis Lhéry (18-year-old striker). Not to mention the three goalkeepers: Etienne Green (21), Boubacar Fall (20) and Nabil Ouenas (20). Even if they are not new in Puel's group, they are also young.
Nordin and Stefan Bajic still absent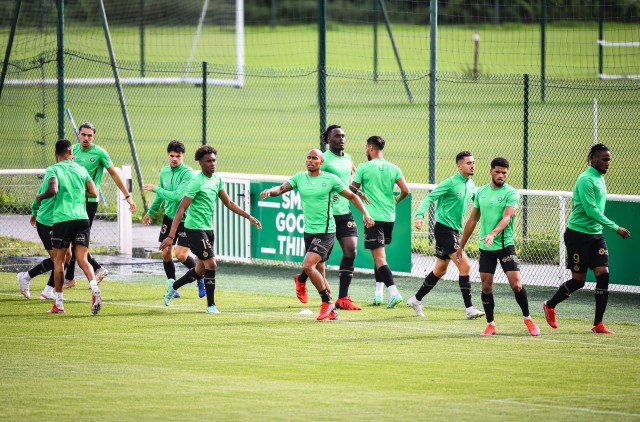 Note that Arnaud Nordin and Stefan Bajic are missing. Selected with the French Olympic Team, eliminated last Wednesday from the Olympics-2020 in Japan, they will have an extended vacation before reintegrating the ASSE team upon their return. The match against Eintracht Frankfurt is the 6th friendly match of the Greens this summer. They had previously faced : Le Puy Foot (2-2), Bourg-en-Bresse (1-1), Grenoble (2-1), Clermont Foot (2-3) and OM (1-2).
ASSE's squad against Eintracht Frankfurt: Fall, Green, Ouenas – Moukoudi, Kolodziejczak, Gabriel Silva, Maçon, Nadé, Nokoué – Boudebouz, M. Camara, Aouchiche, Neyou, Diousse, Z. Youssouf, K. Maïga, A. Sidibé – C. Abi, Khazri, Krasso, Bouanga, Hamouma, Lhéry.