FOOTBALL – Stade Rennais Mercato: Towards an offer from Barça for Eduardo Camavinga
Great hope of French soccer, Eduardo Camavinga is attracting the interest of several European clubs. If Arsenal is presented as a serious contender, Barcelona has not yet abandoned its chances in this case. The Catalan club intends to secure the field, and already make a first offer for the nugget of Stade Rennais.
Eduardo Camavinga, successor of Busquets at Barça?
Exceptional last season, Eduardo Camavinga has experienced a decline in performance this year. He played 37 games for only one goal and three assists, all competitions included. But despite this downturn, the young French midfielder still seems to interest the big European teams. This is the case of Paris Saint-Germain, Bayern Munich and Arsenal.
Nevertheless, nothing is official yet and this leaves a window of opportunity for other courtiers, first of all, FC Barcelona. Indeed, Eduardo Camavinga is part of the short list of the Catalan club for the succession of Sergio Busquets.
A concrete offer in the coming weeks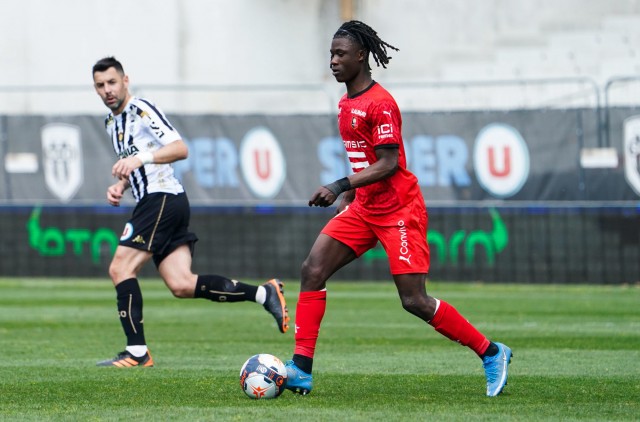 According to ESPN, the Barça leaders are ready to go on the offensive, with a concrete offer in the coming weeks for the Rennes prodigy. However, with their finances in the red, the task looks very complicated for Barcelona. Since the Stade Rennais does not intend to sell its midfielder at any price. The Rennes management still expects a nice check to let go of their young player, whose contract expires in June 2022.

Revelation of the Breton club last season and stunning in this early competition, the future of Eduardo Camavinga will therefore, for sure, animate the summer mercato in 2021. In addition to Arsenal and Barcelona, Manchester United, Tottenham and PSG are closely following the evolution of this case.