PSG Mercato: Erling Haaland ready to close Real's door on Mbappé
PSG Mercato : After January, Erling Haaland a Priority for Real Madrid?
Real Madrid has already identified the two best attackers of the moment by targeting Kylian Mbappé from Paris Saint-Germain and Erling Haaland from Manchester City. According to the Spanish press, the Norwegian player is not opposed to an adventure at the Merengue club. However, as was the case with his departure from Dortmund, it could all come down to a matter of money.
Indeed, the top priority for strengthening the Madrid attack has a name, and it's Kylian Mbappé. The French player's contract with PSG expires in June, and he should be cheaper to acquire than his Norwegian counterpart. To sign the player from PSG, Real Madrid would only need to convince him with a signing bonus estimated at over 130 million euros. PSG would not receive a transfer fee for the player's departure to Real Madrid as he would be out of contract in June.
However, Kylian Mbappé has already played a trick on Florentino Perez and Real Madrid. When he was in exactly the same situation, the 24-year-old forward ultimately extended his contract with PSG, which offered him better financial terms than he could have received at Real. Naturally, once bitten, twice shy, Florentino Perez remains cautious. The Spanish leader is therefore preparing a contingency plan to deal with a possible change of heart by Kylian Mbappé.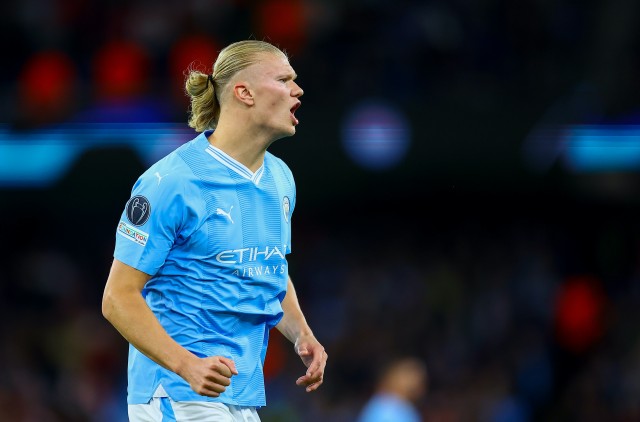 Real Madrid: Florentino Perez Prepared to Turn His Back on Kylian Mbappé
OK Diario suggests that Real Madrid, in addition to the Kylian Mbappé deal, for which a contract signing is expected in January, is also looking to have a backup plan with Haaland. If the Frenchman does not sign the awaited contract with Real Madrid in January, it would indicate once again that he is far from joining Los Merengues. In this case, Erling Haaland would shift into the position of Real Madrid's top priority target.
And the news on that front is positive for Real Madrid. The Norwegian forward appears to be showing positive signals about leaving Manchester City for Real Madrid, even though he is under contract until June 2027, and the stance of his current club will be decisive. Currently valued at 180 million euros, he would be ready to join Los Merengues if they offer him a signing bonus of around 120 million euros, just as it is planned with Mbappé.
However, even with the payment of this bonus to Erling Haaland, Real Madrid would additionally be obliged to write a hefty check of around 200 million euros to the Sky Blues for their player. In the absence of the guarantee demanded by Real Madrid from Kylian Mbappé, namely the signing of a pre-contract as early as next January, Florentino Perez would be heading toward the Haaland option.
Because in the event of an extension with PSG, Kylian Mbappé would not be available for less than 500 million euros, including the signing bonus. The capital club is not inclined to make money by willingly letting go of the forward and would demand the maximum to deter suitors. Therefore, as early as next January, the Erling Haaland case could already close the door to Real Madrid for Kylian Mbappé if he chooses to delay his decision until the end of the season.