FOOTBALL – OL Mercato: Houssem Aouar drops a hint about his future
The rumor about the departure of Houssem Aouar animates the pre-mercato of the OL. It is however revived by Laurent Blanc. But the player is clear about his future.
OL Mercato : Several clubs are looking for Houssem Aouar
Passed very close to a transfer from OL during the summer mercato, Houssem Aouar is still on the move. His contract ends on June 30 and he has contacts with clubs that have tried in vain to recruit him. Betis Sevilla, Benfica Lisbon, Newcastle United, Atletico Madrid and Nottingham Forest are still interested in the services of the playmaker of Olympique Lyonnais. The idea of recruiting him freely in June, without paying a transfer fee, seduces these suitors.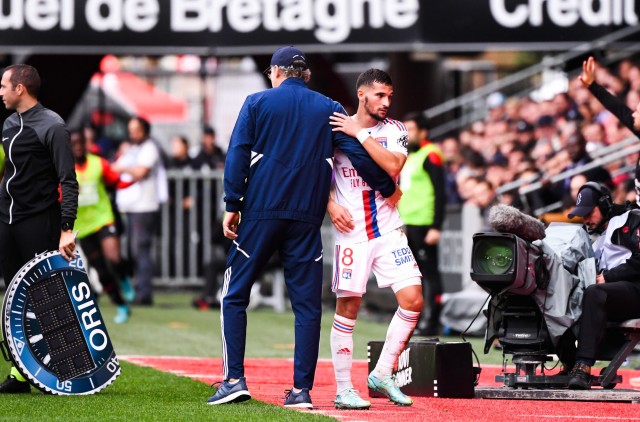 A new club would enter the race for Houssem Aouar. According to Calciomercato, Jose Mourinho wants to strengthen AS Roma in January and is thinking about the player trained at OL. The club is ready to make an offer of € 5 million to the management of the Rhone club, to buy the last six months of contract of its No. 8.
The cold answer of Houssem Aouar on his future
Asked about his future at Lyon, the 24-year-old player remained vague. He said he is rather focused on his playing time and the objectives of the club. "A departure this winter? Honestly, I especially want to play the games. I remember where I was a few games ago. I want to do everything for the team," he replied in a press conference.
Relegated to the bench by Peter Bosz since the beginning of the season, Houssem Aouar has found playing time under Laurent Blanc. He was a starter in the last three games of the Gones (2 wins, 1 loss). The new OL coach has entrusted him with the keys to the game and he would like to earn the "trust" of the Cevenol, by performing well. A big appointment is coming up for the French international (1 selection), namely the important Olympico between OM and OL, Sunday at 20:45 at the Velodrome.
"I like to play this kind of match. We know that there is a lot of expectation. I will do my best for the team. It's a big game because we don't have a derby this season. It's up to us to bring back the victory and make our supporters proud", he declared.