FOOTBALL – PSG Manchester City: Riyad Mahrez answers Neymar's bet
Present in a press conference this Tuesday, the day before the semi-final first leg of the Champions League, the PSG striker, Neymar, has openly announced his desire to beat Manchester City. Riyad Mahrez, midfielder of the English club, also delivered his impressions for this upcoming clash.
Neymar wants to beat Man City and win the LDC
"I am very happy with the season of PSG. Regarding the Golden Ball, it's not something I think about. I focus on the Champions League, which is my first goal and it is much more important in a career. I want to win this game, win the Champions League. In the future, I am sure I will remember more that I helped PSG win the Champions League. We beat Barcelona, Bayern. Manchester City has a very strong team, but we will do everything to beat them, "said Neymar this afternoon at the Camp Loges.
If Paris Saint-Germain's Brazilian international is already showing his claws for Wednesday night's game, the Citizens intend to show the Parisian players that they are not coming to the French capital for tourism.
Riyad Mahrez: "Show that we are here to play and to win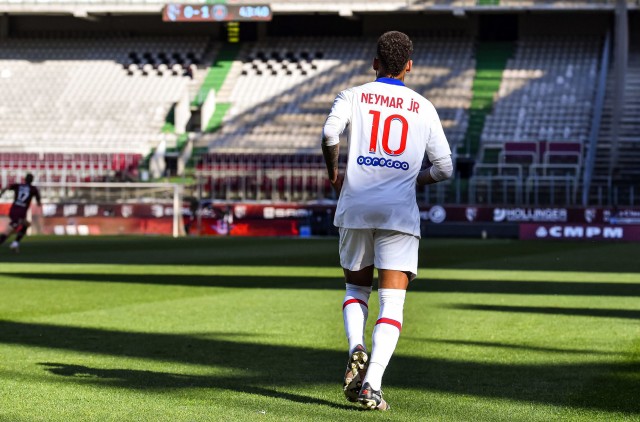 Present in Pep Guardiola's squad to face Paris SG, Riyad Mahrez wants to beat his hometown club at the Parc des Princes before confirming qualification for the Champions League final on May 4. Born in Sarcelles, the 30-year-old Algerian international is especially excited about playing against PSG.
"The Champions League semi-finals are a dream come true. We have to raise our level of play like when we played in the League Cup final (…) I am not here to estimate who is favorite. PSG is a great team, they eliminated Bayern. We have our strengths, they have theirs. We'll see who comes out on top," said the former AC Le Havre attacking midfielder before talking about his return to Paris.
"Coming back to my city, where I grew up is always good. It's the first time for me. It's special, for sure, but I'm here to play my game with my team and especially to try to win and show our personality (…) We are here to win and not just play a Champions League semi-final. We must show that we are here to play and to win (…) Everyone in our team is a great player. We don't have stars like Messi and Ronaldo, but everyone can play and make a difference. City is a very competitive team," he added.
Appointment is therefore made for Wednesday at 21 hours at the Parc des Princes.