FOOTBALL – PSG Mercato: Succession Kylian Mbappe, a terrible move by Raiola revealed
With the Kylian Mbappe situation, PSG is looking to get their hands on a new star in attack. But Mino Raiola complicates the task.
Haaland, PSG's No. 1 priority for the post- Kylian Mbappe era
Free on June 30, Kylian Mbappe has not extended his contract and is therefore headed for a free departure to Real Madrid at the end of the season. To possibly succeed him, Paris Saint-Germain would have made Borussia Dortmund's striker, Erling Haaland, their main target. The Norwegian international is linked to BVB until June 2024, but has a release clause that comes into effect next summer for a check of 75 million euros.
An amount that the Qatari owners of PSG would be willing to pay to make the Norwegian cyborg the future of the club after Kylian Mbappe. A trend confirmed in France by RMC Sport, which assures that the number 9 of Borussia Dortmund is indeed a very appreciated track on the side of the Parisian management for the succession of Mbappe. However, the agent of the former RB Salzburg striker would have other plans in mind for his colt.
PSG Mercato : Raiola has already made a deal for Haaland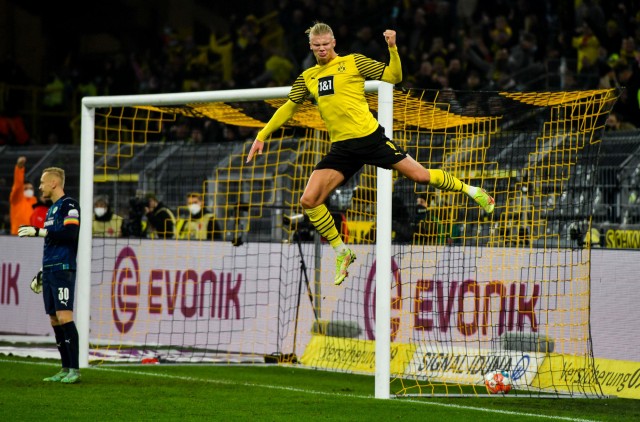 This Tuesday, the Spanish newspaper Marca revealed that Erling Haaland has asked his representative to settle the issue of his future destination with his various suitors during this winter mercato. The 21-year-old player wants to have a clear head to tackle the second half of the season with the German club and therefore wants to be fixed on his future in this January.
And while Paris Saint-Germain would be willing to do anything to get the signature of the Leeds native, Deportes Cuatro assures this Tuesday that if Joan Laporta manages to raise the necessary funds, Haaland will sign for FC Barcelona. Indeed, the Spanish media explains that the president of the club and Mino Raiola, the agent of Erling Haaland, would have agreed on the transfer of the player and would have even concluded a pact.
An information confirmed in turn by Marca, which indicates that in "small committee", the president of Barça would assure his entourage that he "will recruit Haaland next summer." A terrible blow for PSG, which could therefore be deprived of a big opportunity for the succession of Kylian Mbappe.
To be continued…