PSG: Galtier prepares two big surprises against Bayern Munich
On the eve of the Champions League clash between PSG and Bayern Munich, rumors are swirling about Christophe Galtier's possible team composition.
Injured in the left thigh on February 1 during the victory in Montpellier (3-1), in Ligue 1, Kylian Mbappé was announced unavailable for three weeks, according to a medical statement of Paris Saint-Germain. Finally, the 24-year-old French international recovered faster than expected to be part of Christophe Galtier's group for the reception of Bayern Munich. This Monday, the club of the capital has found its number 7 in training at the Camp des Loges and the fact that he has done quietly all the training session of the day is a positive sign for the Parisian team, which has well and truly confirmed the presence of the French star at the Parc des Princes. And according to the latest news, Galtier could even make an important decision for Tuesday night's game.
PSG: Mbappé starting and Zaire-Emery against Bayern Munich?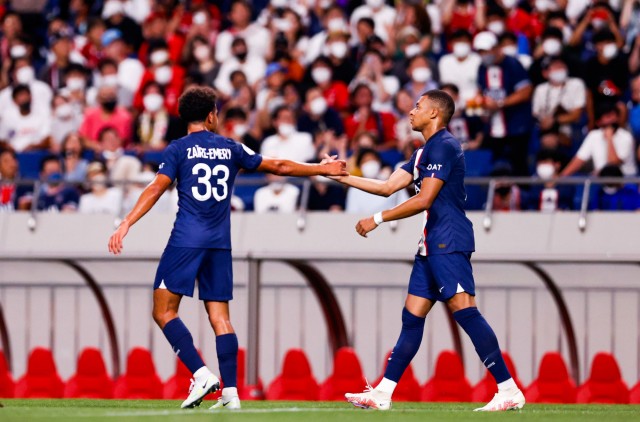 While there was concern, Kylian Mbappé is reassuring the whole Paris Saint-Germain. Already present at training on Sunday, the child of Bondy was still at the Camp Loges, just like Lionel Messi, Marco Verratti and Fabian Ruiz. Present in the group of Christophe Galtier, the 2018 World Champion could even be lined up as a starter against Bayern Munich on Tuesday night at the Parc des Princes.
The journalist Fabrice Hawkins of RMC Sport indeed explains that Mbappé would have a chance to be a starter if his thigh reacts well before kick-off. And according to Team, the Parisian coach would also think, in recent hours, to start the young midfielder Warren Zaire-Emery against Bayern Munich. "By opting, moreover, for an animation with four defenders," says the sports daily. Galtier would like to densify his defensive animation against the men of Julian Nagelsmann.