FOOTBALL – Barça: Ansu Fati lives a real nightmare
Barcelona has been without its prodigy Ansu Fati for many months and the situation of the young player is not getting better. While Barcelona were knocked out of the Champions League in the round of 16 by PSG, the Catalan club is still in the running for the La Liga title, just four points behind leader Atletico Madrid. Ronald Koeman's men also have a King's Cup final to play at Athletic Bilbao, but it will probably be without the 18-year-old Spanish international, who is worried about withdrawing from the Euros and the Olympics due to a recurring meniscus injury.
Barça very worried about the health of its prodigy
While he made a good start to the season with Barça, Ansu Fati was cut short by a knee injury. Absent from the field since November, the Spaniard is not likely to return to his teammates soon. Indeed, Ansu Fati was operated on once and remained in hospital for several days before the condition of his meniscus required a second operation in January, according to AS, which said that the club has not communicated on this subject. His return was then hoped for the first and second leg of the Champions League match against PSG, but the pain was still there. After the resumption of individual training, the winger had to stop his efforts to return to form because of these pains.
A third operation for Ansu Fati?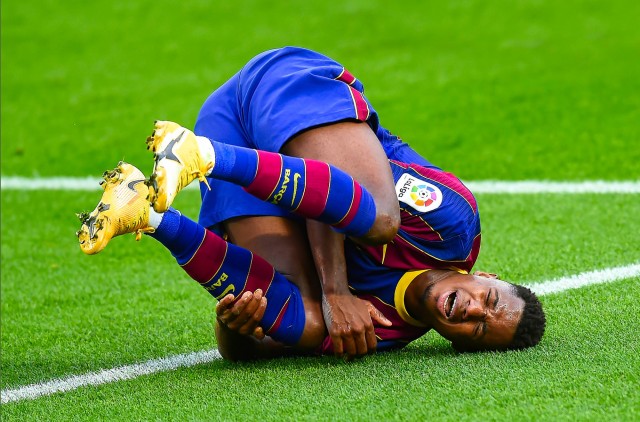 And the Spanish press explains that the ordeal of the Barça nugget is not over. According to Radio Catalunya, Ansu Fati could undergo a third operation, which would deprive him of the Euro and the Olympic Games this summer. This information is qualified by Mundo Deportivo, which explains that the club and the player are giving themselves two weeks to think about it. Ansu Fati would be consulting a specialist in Lyon before a final decision on a third time on the table is taken. One thing is sure, the end of the season of the player looks complicated and it is not likely to make a return in the coming weeks.