FOOTBALL – PSG Mercato: A German cador goes after a Paris SG prodigy!
PSG Mercato : After two important departures yesterday, Paris SG could continue in this way with the departure of a great hope.
PSG Mercato : A Titi is getting closer to the Bundesliga
Paris Saint-Germain has announced the departure of Nathan Bitumazala and Thilo Kehrer. These two sales are part of the club's massive downsizing plan this summer. The new Parisian management, represented by Luis Campos and Antero Henrique, has planned to complete about 15 departures during this summer mercato. With this in mind, many players are expected to leave before September 1.
This is the case of Junior Dina-Ebimbe, the versatile midfielder is at the end of his contract in a year and his future at PSG is now written in dotted line. The young French hopeful should go to Germany to discover the Bundesliga. After an aborted transfer last January, Junior Dina-Ebimbe is expected to join Eintracht Frankfurt. The Titi should join the recent winner of the Europa League and compete in the Champions League. PSG should receive a sum between 6 and 7 million euros and a percentage on a possible resale. The transfer of Junior Dina-Ebimbe is imminent, the 21-year-old Frenchman was not present at the training of Paris Saint-Germain yesterday according to Team. The official announcement of his transfer from PSG to Eintracht Frankfurt should take place this week.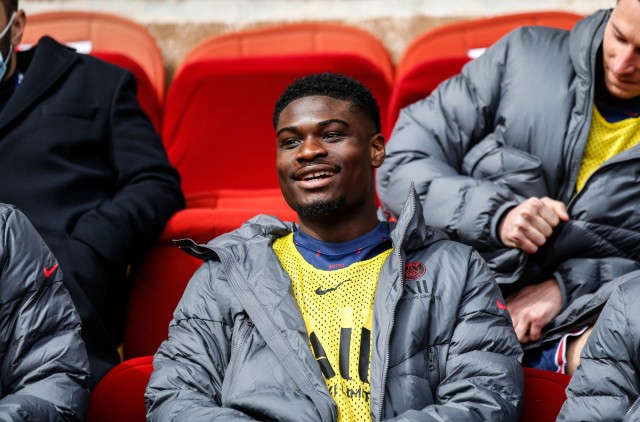 PSG Mercato: Paris SG is a supplier of talent in the Bundesliga
Paris Saint-Germain is considered as one of the best training clubs in France and in Europe since a few years. More and more players from the PSG training center are becoming professionals and moving away from Paris SG. A significant number of its Titis are currently playing in the Bundesliga. The best known examples are Christopher Nkunku, Moussa Diaby and Kingsley Coman who became internationals thanks to their performances in the Bundesliga. By leaving PSG to join the Bundesliga, Junior Dina-Ebimbe hopes to follow in the footsteps of his elders.