FOOTBALL – Real Madrid Mercato: Thibaut Courtois drops a bomb for Eden Hazard
Despite a contract running until June 2024, Eden Hazard is announced to be leaving for Real Madrid. Currently in training with the Belgian team, the Merengues goalkeeper Thibaut Courtois spoke about the situation of his teammate.
Thibaut Courtois seals Eden Hazard's future
Arrived in 2019 from Chelsea against a check of 115 million euros, Eden Hazard is struggling to find his feet at Real Madrid. According to several Spanish media, Florentino Perez already wants to get rid of the Belgian playmaker. A few days before the official opening of the summer mercato, the Madrid Goalkeeper, Thibaud Courtois, was asked about the future of his compatriot. And despite the many rumors in the press, the former Chelsea Goalkeeper assures that the 30-year-old Belgian international will remain in Madrid next season.
"Eden remains at Real Madrid 100%, he does not want to leave the team. Only the Madrid press writes about his desire to leave," Courtois said in an interview with the Belgian newspaper Le Soir. "It's always a shame to see Eden having problems (…) In the last few months, he worked a lot in the gym (…) In training, I saw him very effective and very active. We saw the Eden of the national team or Chelsea (…) Carlo Ancelotti will know who Eden Hazard is and which player he is. To Eden to do it on the field. We know his qualities and we should not doubt it, "added Thibaud Courtois. For his part, the new Madrid coach also wants to keep the Belgian magician.
Carlo Ancelotti wants to keep Eden Hazard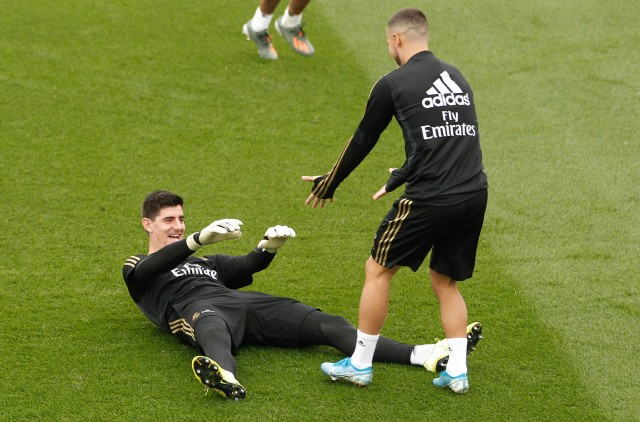 Unlike his president Florentino Perez, the successor of Zinedine Zidane does not want to separate from the captain of the Red Devils. Freshly landed on the bench of Real Madrid, Carlo Ancelotti has openly announced who intends to rely on the former attacking midfielder of LOSC. "Hazard is a high-level player. He has had problems with injuries, but I think he will express his potential because he wants to. This is the right year," explained the Italian coach in a press conference.